Compton Bassett Farms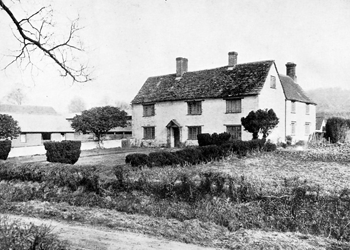 In 1086 Compton Bassett had land for 12 plough teams and nearly all Compton Bassett's land was used in common until the late 17th century when there was apparently a single set of open fields.

In the main part of the parish in 1838 there was 1,000 a. of arable and 1,300 a. of meadow and pasture. Besides the home farm of Compton Bassett manor there were seven, mainly compact, farms each of over 100 a., and several smaller farms. The largest farm was Nolands, 672 a. including 230 a. in Cherhill, for which a new farmstead had recently been built; Breach farm measured 228 a. and Freeth 163 a. All the other farmsteads stood between Home Farm and Lower End Farm along the principal route through the parish. The location of the farmsteads and the number of principal farms had not changed by 1886, and those farms had apparently absorbed land of smaller holdings. There were strip linches east of Streete Farm, an indication that the face of the scarp may have been cultivated in the earlier Middle Ages.

In 1916 there were still seven principal farms based in Compton Bassett besides Home farm. Between 1918 and 1929 much more of the farmland was brought in hand by the owner, but from c. 1930 the land was again in individual farms. Also from c. 1930 dairying was probably the only occupation, or one of the principal occupations, on all the farms. Nolands farm, 1,313 a. in 1930, was reduced when land was sold for use as Yatesbury airfield and the camp of R.A.F. Yatesbury, West Nolands farm, the farmstead of which was erected in the mid 20th century, began as a dairy farm; it was an arable and beef farm of 212 a. in 1994. The land used for the airfield and the camp was then part of Upper farm, Cherhill, and arable. Lower End farm, supported a Friesian herd from 1928 to 1956 or later and on Breach farm, cheese was made in the 1930s; Dugdale's, 228 a., was a dairy and mixed farm in the 1950s. By 1963 Manor farm had been merged with Streete farm. The combined holding, 363 a., was a dairy and stock rearing farm in 1963 and, a dairy farm in 1995. From the 1930s to 1953 Home farm was worked with land in Cherhill as a mainly dairy farm.