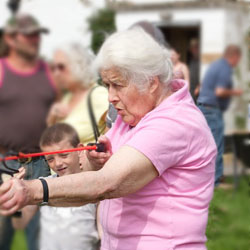 Serena Henly
Serena was born in London on the 8th March 1930. She moved to Freeth, Compton Bassett, in 1957 when she married her husband Bob Henly.
It came as a deep shock to the whole village to hear of her sudden passing on Wednesday 19th March 2014 aged 84 years. Beloved wife of the late Bob, mother of Jasper and Richenda, grandmother to Kitty, Rollo and Charlie. A strong supporter of the church and of village life she will be sadly missed. Our thoughts and prayers are with her family at this sad time.
We are all deeply saddened by the death of Serena Henly and we print here, as a fitting obituary and with his permission the ovation given by Jasper Henly for his mother at her funeral at St. Swithin's Church, Compton Bassett on April 4th. She leaves an unfillable gap in our lives in the village.
Richenda and I are overwhelmed by all the cards, letters, kind words and memories. We are proud that our mother meant so much to you all and we thank you.
Serena Lamb was born in London on the 8th March 1930, her father was a former Major in the Black Watch and the Black and Tans, her mother was the daughter of Sir Fredrick Eley, they farmed at Sundrige in Kent where Serena and her two sisters, Lystra Mary and Cordelia lived. They moved to Cogeswells, Tytherton Lucas when she was four and went to the Meravion school at East Tytherton then to Gintra school in Calne. By now the war was in full swing and her stepbrother Stephen was evacuated and joined them.
They went to school by train from Stanley station taken there by pony and trap. Serena soon learnt that if she got up early and chased Smokey around the paddock a few times no one could catch him and then they could not go to school
At school Miss Stone had a board on the wall with all the names of the Royal Navy ships and the German Fleet and the children were encouraged to listen to the news and tell Miss Stone of any ships that had been sunk, they were then award points. After the first ten days Serena and Stephen had sunk the entire German Fleet and most of the Royal Navy.
After Fintra she went to the convent school in Chippenham where she often drove the school bus as the driver was in a drunken stupor. On her birthday her mother would take the family to Bristol Zoo and then a picnic on the Downs above the gorge. When their mother dozed off they would pelt the tennis club with stones some two hundred feet below and to their delight a man would come out shaking his fists; he soon ran back in. In 1947 she went to Rhodesia with her grandfather, Commissioner Lamb, as companion/secretary staying in Government House, Salisbury. Returning home a year later she worked for Colonel Rollo Baker at East Tytherton.
Serena married Bob in 1957 and moved to the Freeth where she had three thousand laying hens, brood mares, turkeys for Christmas and every kind of animal. She was very much involved with the Pony Club, organized and delivered meals on wheels, parish council, treasurer for Compton Bassett PCC, wrote a monthly article for The Villages, and was Chairman of the W.I. In 1972 she became a magistrate soon becoming the chairman of the Calne bench and sitting on the Chippenham bench; she was known as 'Hangum High'! A monk appeared before her charged with speeding, she sentenced him to five Hail Marys!
She loved hunting and always had tremendous hunting teas at the Freeth, often ending up in food fights and once beating some anti-hunt people with a wet mop. They ran for their lives.
She always walked hound puppies and was so proud when Culprit her dog hound won the puppy show.
She was very tough and expected her children to be. Richenda was the only person at pony club camp to have a camp bed made from a West of England hessian sack filled with wheat straw. She was an excellent cook though sometimes a bit experimental especially when she poisoned herself on runner bean root.
The Freeth was always full of laughter, warmth, entertainment, dogs, moth eaten parrots and you could expect to meet people from all walks of life, young and old, gypsies and Princes, everyone was made to feel very welcome and at ease.
She was a champion of rural life and knew all that was going on in the local area. She was quick witted and with a sharp mind. She served her community well, a free spirit, sometimes a loose cannon, worldly, kind, generous unshakable and with a great sense of humour. She loved practical jokes and had the ability to put people in their place with a few well placed words. If you heard her muttley laugh you knew she had told a rude joke. She hated getting old but had great faith and strength. She did not like how the world was going with spinning politicians, gay church marriages and fund raising for lavatories in the church. I hope you will all have happy
memories of Serena and feel your lives enriched for knowing her.
I think we all thought she would never leave the Freeth. Graggy/Seir was so proud of her grandchildren; Rollo being so determined to farm and working so hard,
Charlie being such a gifted horseman and working so hard, Kitty for being Kitty with her strong traits of Graggy. She was a great Mother and friend to me and I will miss her terribly.....
God Bless.