Goodenough's Corner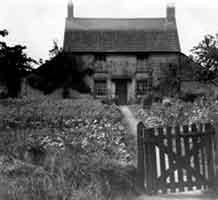 We lived at Goodenough's Corner until 1971; we still didn't have electricity as the landlord wouldn't agree to it, even though we offered to pay for it. When Henry's mother died there was a sort of a mix up because places in those days could pass to the wife but may be not to the son. But we thought the tenancy would change over to Henry but we weren't allowed to take it over, so we had to move as we weren't able to buy the place.
No. 1 Briar Leaze was just becoming empty, so Mrs Badley who was then on Wiltshire Council said she would do her upmost to see if we could have this house, as Henry had lived here all his life. At the time it was very hard for Henry as he had lived at Goodenough's Corner all his life. We then settled in and gradually got to like it very much. When Henry died people said to me you won't stay here, you will move away and I said "Well, no I shan't, why should I? I've got all my friends here and lived here since 1950". If I'd moved to Calne I'd have to make all new friends and I was happy here so I just stayed and here I am still.
The landlord of Goodenough's Corner lived away, down country somewhere and he also owned the thatched cottage where the Wheelers live. The Lewis' lived there then and he sold that as well. In those days people didn't earn very big wages and Henry couldn't afford to buy it. In a way it was meant to be that we came up here. The garden, grounds were very big because we had all the orchard and it would have been a lot of upkeep. So yes we were quite happy to move here.
I felt welcome and of course Henry was well-liked and people get to know you and you join in; I think that's the most important part, joining in and sort of getting to know everyone.
Ethel Goodenough talking for Spotlight Compton Bassett August 2012