The White Horse Inn - Compton Bassett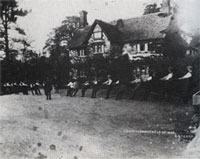 For more than a century and a half, vistors have enjoyed the hospitality of The White Horse Inn, Compton Bassett.Here is a traditional, stone built, rendered and whitewashed, English village hostelry with atmosphere and style.
Set deep in the Wiltshire countryside, The White Horse Inn is only a short drive by car from the major shopping centre of the Roman spa town of Bath and ideally placed for visiting thriving country towns such as Chippenham, Calne, Devizes, Marlborough and Wootten Bassett. Walkers looking to explore some of the best downland countryside Wiltshire can offer, with spectacular views and monuments to the past, The White Horse Inn is the perfect base.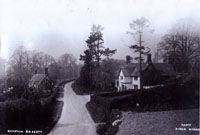 In the late 1840's, William Clarke ceased trading as Compton Bassett's major shopkeeper, baker and beer retailer. This gave his long time competitor, John Sexton, the opportunity to expand his own grocery business. John did so and in 1850 established The White Horse in an early 18th century house where he also carried on his trade as a shopkeeper. The inn was named after the hill figure that was cut out in 1870 at nearby Cherhill.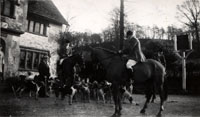 By 1859 the White Horse Inn had passed into the ownership of George Bush who opened a bakery on the premises int he ear;y 1860's. This tripartite business ~ grocer's shop, bakery and inn ~ was continued by William Bush and then, at the beginning of the 20th century, passed into the Blackman family.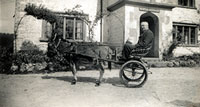 Shortly before the first world war, Frank Blackman dispensed with the provisions side and the bakery, concentrating exclusively on the White Horse Inn. Frank was suceeded by Louisa Blackman during the early 1920's, then by Harold who held the inn until 1935. Tom Goring took the White Horse Inn into the second world war years and there has since been a sucession of landlords.
Your resident landlord and landlady today are David & Eva.