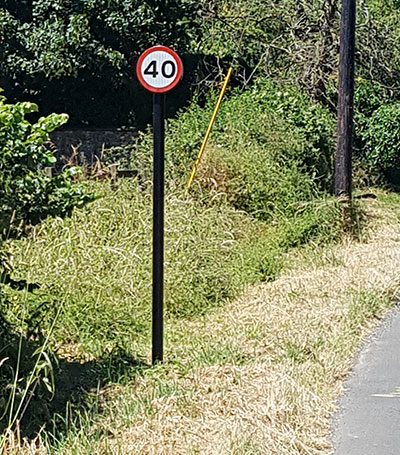 40mph Speed Limit
The County of Wiltshire (C15, Compton Bassett)(40MPH Speed Limit) Order 2017
Wiltshire Council has introduced the above Order to introduce a 40mph speed limit on C15. The order is being made "In the interests of Highway Safety", from a point 95 metres north west of its junction with Briar Leaze to a point 30 metres south of the driveway entrance to Dugdales Farm House
The order has been long awaited after a campaign which was started over 10 years ago gained considerable momentum in the last two years.
Grant funding of up to 75% of the cost of the signage was obtained by the Parish Council after diligent and thorough research, leaving just one third of the cost to be found by the parish. The posts and signs were introduced recently and the order came into force on 25th June 2018
Fran Creasey, is the speed watch coordinator for the village and was reported in The Gazette & Herald recently as saying, "As soon as the new signs went up we noticed an immediate difference in the attitude of drivers, as they find themselves entering the new 40mph zone before coming into the 30mph section of the village. We would rather that drivers don't use Compton Bassett as a short cut at all but if they have to drive through the village, at least they aren't treating it as a race track as before. It's not a perfect solution but it is a start and we are very grateful."
It should be noted as a personal observation that without teeth this order is not able to deter the persistent and habitual speeders passing through the village. The excellent efforts of the Speedwatch team should be applauded but I would suggest that until the police have sufficient resources to catch the persistent offenders it is not a problem that will go away just yet.
For those wishing to check out the orders and documents under which authority the speed limits have been set can see and download the two documents under the section on governance in the Parish Council area of the site. For now they can also be viewed by clicking the two links below.
We must thank the efforts of parish councillors, past and present, and the Speedwatch team for their work in making this happen.