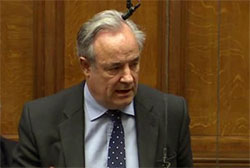 Parliamentary Boundary Changes
Revised proposals, published on 17 October 2017, set out the new constituencies in the South West. You had until 11 December 2017 to tell The Boundary Commission what you think of them.
You can view the proposals, compare them with initial proposals, your existing constituency and see how they relate to local government boundaries in our area. Or you could learn about the 2018 Boundary Review by watching this video.
If the Boundary Commission changes were to go ahead, then Calne would once again become part of Devizes Constituency, with Chippenham coming back toour current MP James Gray in compensation.
However Labour and the Lib Dens are opposed to the proposed changes, because they would result in a net reduction in seats for them; and the DUP seem to be opposed because it would give more seats to Sin Feinn.
The net result is that the Boundary Commission will bring forward its proposals in the New Year, but seem very unlikely to be passed by Parliament.
What do you need to know
The number of constituencies in the South West must reduce from 55 to 53
By law, every constituency proposed must contain between 71,031 and 78,507 electors
Local government wards were mainly used as the building blocks for proposed constituencies
The Boundary Commission has tried to retain existing constituencies where possible
The Boundary Commission has tried to have regard to geographic factors
If the proposals are accepted, you will have a new MP